By Pompey |
23
January 2022 |
0
Comments
Top 10 Most Popular Conference Room Chairs on the Market in 2022
The
conference room chair
is often not given the attention it deserves, hurting the business and office. Think about this: how many important meetings or business transactions occur in the conference room where these chairs are located?
If you consider the number of people using conference chairs, you will see that it takes more effort to purchase them. Based on their most common usage, style and comfort are the two most essential aspects of conference room chairs. Also, ergonomics is critical. Although many conference rooms' chairs are designed for brief sitting periods, ergonomics is less critical.
These are the top picks of the
Top 10 Most Popular Conference Room Chairs
on The Market in 2022 for your employees, clients, or colleagues at work.
1. Metropolis Conference Room Chair
The Metropolis Conference Room Chair is our first choice. It's well-known for its lumbar support and cushioned leather upholstery. This chair is the best choice if you look for the most comfortable
conference chair
for long meetings.
This conference chair is distinguished by its distinctive "s"-shaped backrest and a dedicated headrest. It's ergonomically more comfortable than other chairs. This is an excellent feature for those who sit through long meetings and need to support their necks and backs. It covers the entire width of your back and cradles your head regardless of your position. Its functionality loves this chair and because it allows for greater comfort while they work. A 6'2" owner praised the leather-finished high back. It's easy to see that this chair is well worth the price. Although it may be more expensive than some of the other chairs on the list, the Metropolis Conference Room chair is the best choice.
2. Sidanli Conference Chair
Are you looking for
modern conference room chairs
that will revive a stale board? With its timeless design, the Sidanli Conference chair will instantly bring any office into the 21st Century. The Sidanli Conference chair features a chrome frame, base, and armrests. It is incredibly sturdy with a 250-pound weight limit. The durable ribbed leather covers are easy to clean. The modern conference chair is designed to promote proper posture, not provide a cuddly experience. For people who are stuck in long meetings, the tilting and tall backrests are a welcome addition. Unfortunately, the armrests cannot be adjusted in height.
Sidanli Conference chair also has a unique feature: a clothes hook at the back. Socialites will relax knowing that their coats won't get wrinkled by hanging them around the backrest. Sidanli conference chair is highly functional and stylish. The chair's build quality and material are exceptional for the price, according to one owner.
3. Giantex Conference Chair
This next set of
conference chairs
is durable, compact, stackable, and ideal for filling large conference rooms, seminars and reception halls at a low price. Although the Giantex Conference chair is not ergonomic, it can be used for short-term sitting. Numerous owners have commented on how comfortable the cushioned backrest and sponge seat is. The backrest's open-back design helps relieve pressure from the spine. Giantex conference chairs are ideal for those settings that require durable, space-saving chairs for brief-term sitting. This applies to guest areas, seminar rooms, and makeshift meeting rooms.

4. Zuri Sterling Leather Executive chair
The Zuri Sterling is a luxurious
leather conference chair
with a modern executive design. This chair is an excellent piece of furniture for executives who want to stand out in their board rooms or meeting rooms. It is a common occurrence for higher-quality materials to be priced higher. In this instance, it is pretty accurate. This conference chair made from genuine Brazilian leather is highly durable and will last many years. It's easy to focus only on the appearance of the Zuri Sterling Leather Executive Chair. However, it is ergonomically designed for exceptional comfort. The chair features a curved back and can be tilted or reclined 120 degrees backward.
This chair's design is not suitable for taller or more prominent individuals. A user below 5'5'' complained that the chair was too big for her at 20.5'" wide by 18.5' " deep. The price is an issue for some, but it's genuinely the best leather conference chair available for luxury and comfort.
5. 2xhome Armless Conference chair
The Sidanli chair's modern design is combined with the minimalist design of the 2xhome conference chair. It has no armrests and features a sleek, modern look. It can be matched with modern office decor thanks to its wide selection of colors.
Some people might see armrests lacking as a problem, but it all depends on the person. The advantage of armless chairs is that they can seat broader people without making them feel like sardines in the can. However, many people will find that they don't need arm support for prolonged sitting. The tilt mechanism of the 2xhome chair makes it very comfortable. It can be repositioned up to 20 degrees. The 2xhome chair is an excellent choice for any conference room or meeting space to update its decor for a more modern and progressive look. For more senior attendees, the armless design is a great choice.
6. SmugOffice Conference Room Chair
Choosing the right office chair for you when you are on a tight budget can be challenging. It's not about the cost but the value. We believe that the SmugOffice conference chair is the ideal balance of affordability and high quality.
It also passed the durability test with flying colours. Many people have commented on how strong the chair is. One owner bought a second one after using the first for a while because of the outstanding build quality. This chair can support a maximum weight of up to 270 lbs. It is more durable than some of the higher-priced chairs. The SmugOffice chair is an excellent option if you have a tight budget and want to stock your conference with decent, affordable chairs.
7. 2xhome White Conference Chair

It's hard to find a home decor colour that doesn't go out of fashion. White would be it. The 2xhome White Conference Room Chair will class up any office with its elegant white design. This white conference chair has many great features, including the chrome-plated base and arms in steel and the luxurious comfort of the ribbed leather. The 2xhome is comfortable. The backrest tilts back about 20 degrees, and the armrests are well padded. There is no lumbar support.

8. BTOD 100MC Chair
The BTOD 100MC chair is a top choice for mesh conference room seating. You can choose from two colour combinations for the 100MC Chair.
The 100MC has a four-position slant lock work that permits you to track down the most suitable position. The 100MC's cross-section backrest can be joined with a tallness movable lumbar, emotionally supportive network to give extraordinary lower support. The 100MC is accessible with soft casters for both tiled and hardwood surfaces. They can likewise be utilized with low-heap business floor coverings. The 100MC Chair is mid-sized with a 25-inch width. The seat measures 20.9 inches in width, making it ideal for multiple users.
9. Office Star 84540 Chair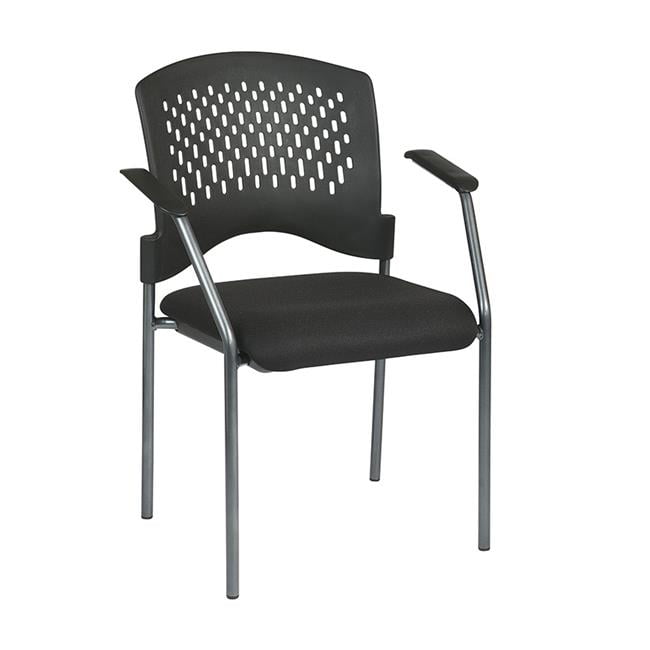 The Office Star 84540 is the top choice for stacking conference chairs. As office space costs rise, more people are looking for space-saving solutions in the conference room. You can stack the Office Star 84540 chairs up to four high. The included casters allow you to move the chairs even if they are stacked. The 84540 has a ProGrid mesh backrest that is breathable and features built-in lumbar support. The padded black fabric seat provides comfortable seating. It measures 25.5" in width and falls in the middle of overall chair dimensions. It is made of titanium and can support 250 lbs.

10. OTG 11730 Luxhide Chair
The OTG 11730 luxhide mid-back conference chair is the best choice for modern conference rooms. The OTG 11730 has black Luxhide upholstery on all seating surfaces and mock leather trim elsewhere. If you don't want them to hit the conference table, you can remove the polished cast aluminium arms. The OTG 11730 includes a concealed seat/back frame and a polished aluminium base to match the components. Its overall width is only 23.5 inches, so it will be easy to maximize seating around a conference table. Even though the overall width of the 11730 is narrow, it still offers a 21-inch wide seat that a wide variety of people can use.
Conclusion
It would be best to make it easier to choose a chair for your conference room than the gorgeous chairs. You may select a chair solely for its aesthetics, as many conference rooms revolve around impressions. These factors will help you make an informed investment in your meeting space. The chair will add beauty to your office. The chair will make your meeting more comfortable.
As one of the
best office furniture manufacturers
on the market,
Meet&Co Office Furniture
produces a variety of conference room chairs with the best quality and the most competitive price. If you need a large or customized order of
conference room chairs
, feel free to contact us!
Leave a Reply
Your email address will not be published.Required fields are marked. *