By Pompey |
23
January 2022 |
0
Comments
10 Best Black Leather Sofa in 2022
Black leather sofas
are a popular choice because of their timeless design, neutral aesthetic and complement any interior. It is durable and easy to clean. Leather sofas can last up to four times as long as fabric sofas. These sofas can be expensive, but leather's durability, quality, and longevity make them a more cost-effective option. There are many styles and sizes of leather sofas: modern futons, stylish Chesterfields, sectionals with built-in storage, loveseats with pillow tops.
There are many styles and sizes of leather sofas. They can also be made from different types of leather. Consider the comfort of each sofa before you make a purchase. Also, take into consideration any useful features included in its design. You will be more likely to find the right leather sofa for you if you're more comfortable with the style, size, and type of the leather sofa. In this article, we will review 10
Best Black Leather Sofa
details based on our research.
The MG-MS-054
Meet&Co
leather office sofa in the collection is the perfect addition to any modern office. We offer an MG-MS-054 Meet&Co black leather sofa with a wide range of customization options, including armrests, nailheads, cushion fillings, and more!
This black leather sofa is made of high-quality raw cotton that will never go out of style and stainless steel feet built to last. And it doesn't stop there! The frame is a sleek black with a silver lining for a touch of sophistication, while the seat cushions come in an attractive navy blue for your comfort and relaxation after long hours at work.
The MG-MS-054 Meet&Co
leather office sofa
is made with black PU Leather or cowhides genuine leather that will look stylish in any home. The frame is constructed from flattened and dried solid wood to create a firm and durable base for this black, modern-styled leather sofa. The black PU has an anti-bacterial coating, which makes it easier to clean and maintain the beauty of your black PU or cowhide couch.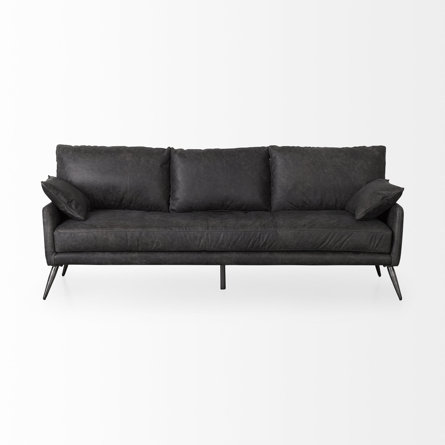 A black sofa is a great choice for most homes, with its classic and timeless design. But you want to make sure that it's durable enough to last through the years of use!

Mabe 82'' Genuine Leather Round Arm Sofa is made from high-quality materials and will last. It comes in black or brown and can even be customized to your liking. It's made from 100% genuine cowhide leather and has been hand-sewn with high-quality cotton threading. This couch will be perfect to fit into your living room or office space.

This is a black sofa that will add elegance to any room. It features a round arm, and the leather upholstery gives it an upscale look. This sofa would be perfect in your living room or family room but can also be used as extra seating at your dinner table. The set includes two matching pillows and one ottoman for storage!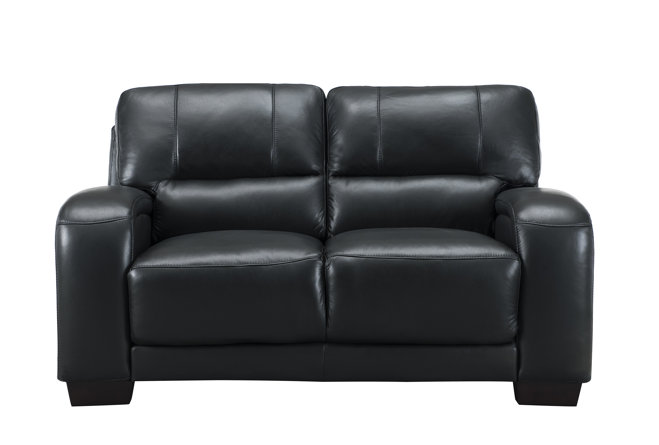 The Hadsell Genuine Leather Square Arm Loveseat Design is a high-quality loveseat that features a black leather design. It has a weight capacity of 600 lb., and it's available in various colors so you can find the perfect match for your living room. This loveseat is designed to be comfortable, with square armrests and plush cushions for ultimate comfort. The seat height is 18 inches from the floor, making this an excellent choice if you have mobility issues or want to avoid straining your neck while watching TV or reading a book on the couch. This loveseat can comfortably seat one person or two people if you like to cuddle! The black leather sofa has an equal amount of softness and firmness, making it very comfortable.

This contemporary product is designed with sleek lines and accent legs. They will add a fresh look to any living area. This loveseat features two-over-two seating with a divided back that provides additional lumbar support and an armrest. It is ideal for any living area and comes in a variety of sophisticated colors.

The Walsunny Convertible Futon Sofa Bed is a great choice when you need extra seating. It's made of high-quality material, and the black leather sofa is durable yet soft to the touch. The Artificial Leather has a sleek finish that will make your living room look more sophisticated. The Walsunny Convertible Futon Sofa Bed is a great choice when you need extra seating. High-quality and durable, this futon sofa bed will not disappoint. With its black leather upholstery on top of artificial leather, it will be easy to wipe down or spot clean any spills that may occur. It also comes with an adjustable headrest pillow for added comfort!
This sofa made from smooth leather and thick padding is a 2-in-1 piece of furniture that can double as a couch and a bed. The couch has four chrome-metal legs, which can remove to provide additional support for a bed. The high-density elastic cotton used in the cushions retains its shape.
A black leather sofa is a luxurious piece of furniture that can enhance your living room's overall look and feel. It can be used for sitting down and lounging on, making it perfect for everyday use or impressing guests. The perfect black leather sofa for you - and it's reasonably priced too. This is an FDW Recliner Leather Sofa that will give your home an upscale look you've been dreaming of. It has a luxurious feel with its soft black upholstery and reclining design, ideal for lounging around on lazy days or watching TV.
The FDW Recliner Leather Sofa is the perfect addition to any home. With its luxurious black leather and reclining capabilities, it is sure to please even the pickiest of customers. This sofa has a sleek design that you can customize with your choice of pillows for your personal touch. FDW's three-seater recliner sofa is constructed from solid wood and filled with a high-quality sponge. To provide maximum comfort, the sofa is covered in soft leather PU leather. If you keep it at seven inches from a wall, the recliner can be used in a full position.
If you are looking for a comfortable piece of furniture to complete your living room, then the Signature Design Power Reclining Sofa is perfect. The Signature Design Power Reclining Sofa is not only one of the most comfortable sofas in this price range, but it also looks luxurious and stylish. The reclining function allows it to be used as a bed when needed, while the power motion makes it easy to get out of without assistance. You can recline in any position with this sofa and enjoy a great movie or TV show. The black leather upholstery has a modern look that will match just about any home decor you have going on.
With its extravagant diamond-stitched faux leather fabric design and ultra-padded cushions, the couch looks luxurious. The single-touch power control of the reclining sofa is available, and an adjustable headrest, cup holders, LED lighting, drop-down tables, and USB ports. The middle seat can be fixed while the two bucket seats with dual-reclining buckets recline at the feet for maximum comfort.
One of the most important pieces of furniture in most homes is a sofa. There are many different types, but one that stands out from the rest is black leather sofas. This type of sofa can be found in living rooms and bedrooms alike, and it has a classic look with its tan or brown upholstery and dark wood accents. Durability is key when buying this type of couch because it can last for years without replacing it!
Divano Roma Furniture Classic Sofa is available in black with matching arm-rests, making it an ideal addition to any home. The three-seater sofa from Divano Roma features a stylishly designed deep button tufted backrest with classic scroll arms and a timeless design. It is well-suited for modern and traditional interiors. The sofa is covered in bonded leather and has Victorian-style wooden legs that give it a sophisticated, royal look.
The black leather sofa is a modern piece that will be easy to maintain and assemble, making it the perfect addition to your home. There are many benefits to owning one of these pieces, including black leather sofas being an elegant touch for any living room. This black futon sofa cum bed has all the features you need to make it the centerpiece of your living space! That is why the MHG Modern Futon sofa cum bed was made for you and your friends who love black leather furniture. The black leather of this futon will add an elegant touch to any room while still being easily maintained and assembled by anyone with minimal tools.

This armless sofa can be used as an extra bed or as a guest couch. It is made with thick cushions and thick padding. The couch is covered in soft faux leather and features a simple design with deep dots. Recline the backrest, and you can convert the sofa to sleep or lounging. The couch's chrome legs add elegance to the entire setting.

The Baxton Studio Mid-Century Modern Masterpieces Sofa is the perfect sofa for any formal setting. This black leather sofa features sleek lines, contoured armrests, and a deep seat that will provide you with maximum comfort. The Baxton Studio Mid-Century Modern Masterpiece Couch is also available in cognac or brown leather to best match your home's decor. This sofa is designed specifically for formal settings and provides an elegant look that will make your home feel like the ultimate upscale living space. With its sleek design, this piece can fit in any contemporary decor scheme with ease!
This three-seater sofa set is made from solid rubberwood. The brown leather covers the cushions, which are made with high-density polyurethane foam. The frame and solid wood armrests are finished in wood veneer in a medium-brown shade.
The Homelegance Marille Reclining Sofa is an affordable black leather sofa with a cool-looking design. This reclining couch offers the ultimate comfort with its thick padded cushions and fabric upholstery. The armrests are also designed to be extra comfy with their deep, plush padding. With so many features that make it perfect for lounging around watching TV or just relaxing, this modern black sofa is hard to resist!
This is a black leather sofa that will provide you with comfort and durability. It has a sleek design that looks cool in any room of your house, and it comes at a great price! This reclining sofa offers the best value for money on the market today.
Conclusion

Black is the most popular color for furniture, making sense because it is versatile and elegant. It can be paired with any other color in your living room, or you could even go light and airy by pairing black with white or cream furnishings.

Despite what you might have been told, black leather sofas are great! It's no wonder why they're the best sellers on the market. Black is such an elegant color, and it can be matched with any style of decor. If you're looking for a new couch, consider getting one in this gorgeous color!
Leave a Reply
Your email address will not be published.Required fields are marked. *