By Pompey |
23
January 2022 |
0
Comments
10 Best Black Executive Desk in 2022
An executive desk in black will not only improve the look and design of your space but can also dramatically increase your efficiency. If you're searching for an executive desk in black to use in your office, a variety of choices are available on the market. Sometimes, the variety of options can overwhelm you and make it difficult to choose the black executive desk that's right for your needs. We've created this listing of the 10
best executive desks in black
for use in the office to assist you. We've also created a comprehensive buying guide to assist you in making an informed choice. Check out the executive desk in black that made a list.
Do you want a black executive desk that is both durable and fantastic looking? Meet&Co has the perfect solution for you! With their RECO-BT-A Meet&Co black executive desk, your new office space will look sleek, stylish, and professional. This furniture company offers a wide variety of styles to suit your needs. For example, if you are looking for an L-shaped desk with storage cabinets on either side, then they have just what you need! They also offer pre-assembled cubicle walls, so all you have to do is assemble the legs on them.
RECO-BT-A
Meet&Co
black executive desks are the perfect addition to any room. These black, modern desks come with a variety of features that will suit anyone's needs. Extra side storage is included on each black desk so you can store your computer and other items in one convenient location.
The Black American Oak Wood Veneer on the Monroe Black Wood Modern Desk is a sleek and stylish way to go. The desk has one drawer that can hold any number of things, as well as an open tower with storage space for your office supplies. It also features a pencil drawer, so you don't have to search through all of your drawers to find the little pieces that are easy to lose!
These black executive desks can spruce up even the most boring room in your house. Black desks are usually made of wood veneer or metal, but they come in many different shapes and sizes. It has a black lacquer finish with silver undertones, which gives it an air of sophistication.
The Simlife L-Shaped Desk Black is great in any office. Business owners have used it for years, and it's no wonder why! The black desk provides ample legroom while also being a space-saving design. This means that your office can have more room to grow without spending money on purchasing a large desk for the company.
Simlife Simplified Assembly L-Shaped Desk Black is the perfect desk for any office, game room, or bedroom. This durable, sturdy wooden desk will not disappoint! The Simplified Assembly L-shaped Desk Black comes with an appealing black finish and a simple design to easily assemble it without tools. It is made of kiln-dried wood, so you can be sure that your new desk won't warp or crack like particle board furniture typically does over time. The Simplified Assembly L-shaped Desk Black has plenty of storage space for all your belongings. With its sleek modern design, this Simplified Assembly L-shaped Desk Black.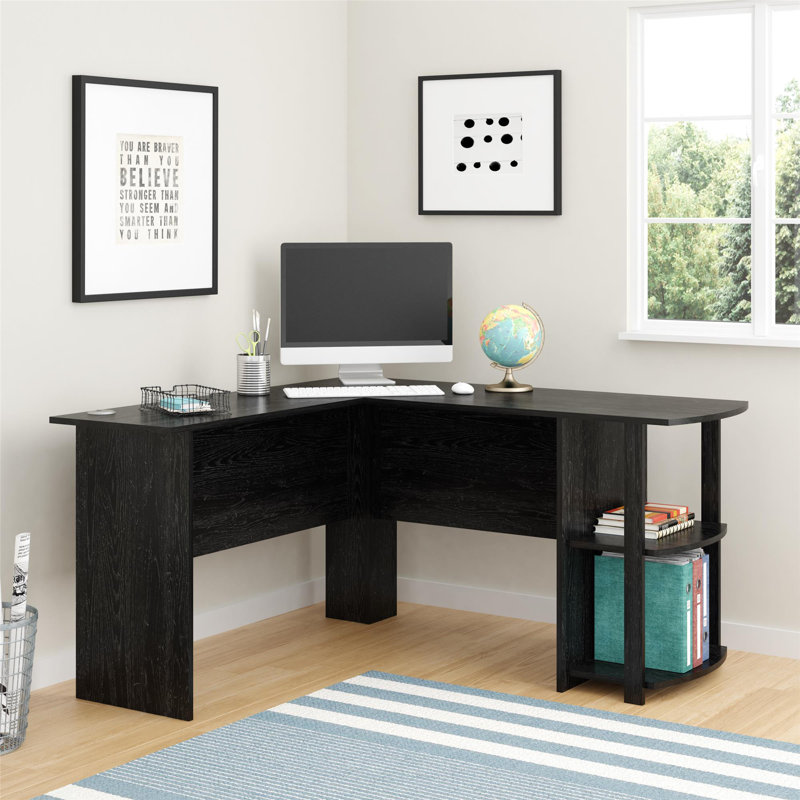 The black Salina Executive Desk is a large and spacious deck with plenty of room for all your office needs. With its black finish, it will blend in with any decor style and provide an elegant look to the space. The L-Shape design offers more than enough room for two people to work together on projects or focus on their tasks at hand. If you need more storage space, there are drawers available underneath the desk and open shelving above it so you can store books, binders, and other items within easy reach.
The black Salina L-Shape Executive Desk will make a beautiful addition to any office, whether your home office or your business. This black executive desk features black laminate surfaces on the top with enough space for three monitors and all of your work materials. The large surface also makes this executive desk perfect for writing proposals, reviewing paperwork, or simply working on getting more accomplished each day.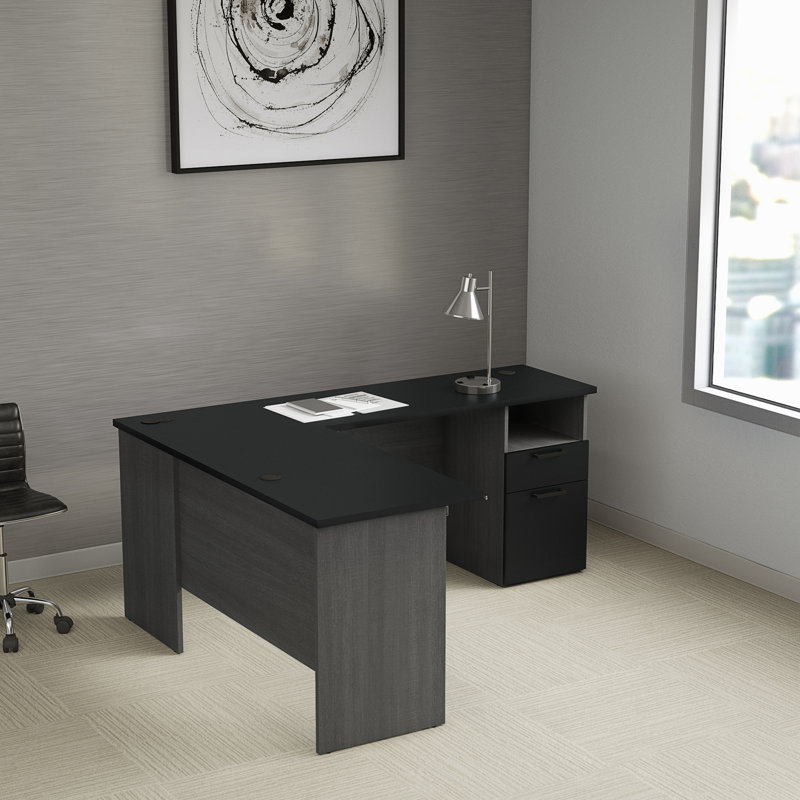 The Bronwen L-Shaped Desk is a black executive desk that includes many features to make life easier. Drawers and keyboard shelf, 1 file drawer with letter/legal filing system, and an L-shaped design are just some of the functionalities that you'll find in this high-quality desk. This desk can be customized to fit your needs by choosing from three different sizes (small, medium, large) and two different styles (traditional or modern). The Bronwen L-shaped desk is a black executive desk that can be configured in many different ways to suit your needs. One file drawer with a letter/legal filing system provides ample space for business files, while the other two drawers provide office supplies.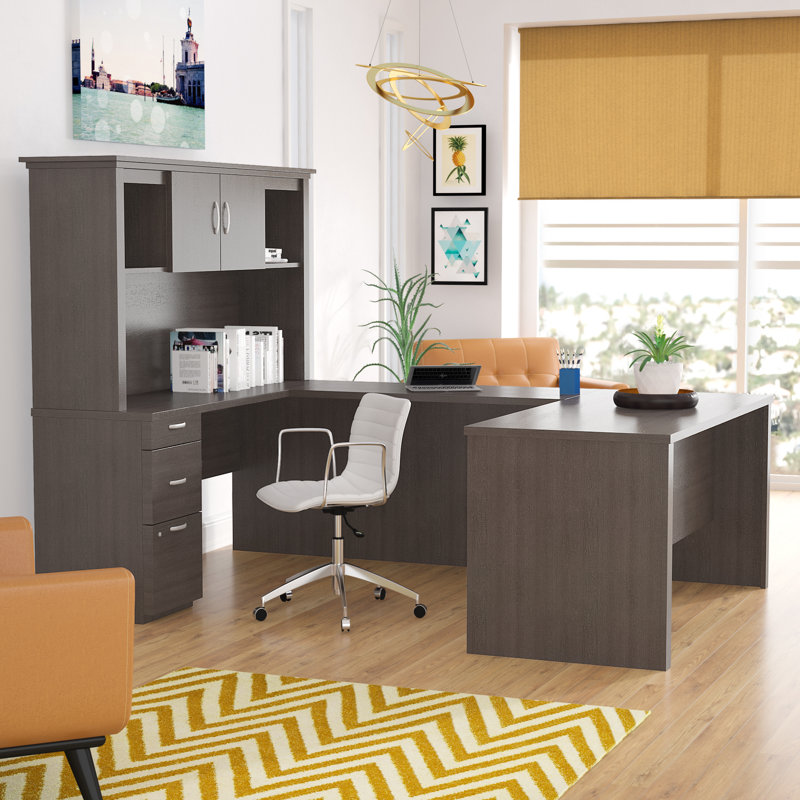 When you're looking for a new desk, there are many factors to consider. You want it to be functional and sturdy but also attractive and stylish. The Pratyush Reversible U-Shape Executive Desk with Hutch is the perfect solution! This desk comes in a black or cherry wood finish with an optional cabinet so that you can customize your workspace area according to your preferences. Attractive moulding on all four edges of this executive desk adds a touch of style, while the rich detailing gives it more depth. This U-shape executive desk with a hutch provides the perfect place for your laptop and monitor while providing ample storage space.
The multipurpose l-shaped desk can be an excellent addition to any family room or home office. Its plan is symmetrical, which means it can be placed either left or right, depending on what your workspace requires. It's thoughtfully created to feature three wire management spots (one at each end and one in one corner) and small panels placed slightly forward, allowing access to outlets. Since it's fully finished from all sides, it can be placed comfortably in the corner or turned over and placed as an executive desk. With plenty of desktop space for dual monitors, this multipurpose L-desk can also be used as a gaming centre. The corner compartment can accommodate the majority of gaming consoles and CPUs and can also be used for storage. The extra space on the desk is perfect for placing a printer, scanner, or spread out books to read.

This desk is packed with features that are easy to use and utility. Not only does it come with the ability to be set in left or right-handed configurations, and it also has an offset-designed corner that has three display surfaces. It is visible from any angle, and the main display consists of a glass display. The leg that supports the top is elegantly designed with a round rod, which is connected to an elongated metal leg. It is also available in white or black.

The versatile addition to your home office, this black executive desk with 2 shelves is a swivel function 360° that will provide you with plenty of space for a laptop and a workspace! The open storage design makes it easy to access any supplies or files without cluttering up the room. It's an ideal choice if you're looking for versatile furniture that will be used in many rooms of your house.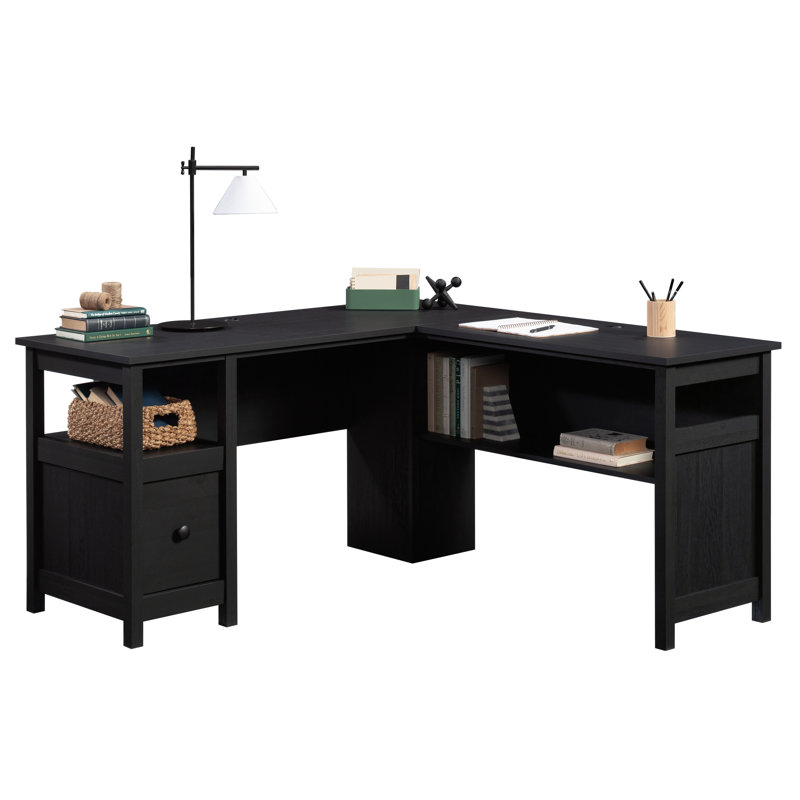 A rich oak finish sets this desk apart from the other desks in the collection. It's an elegant centrepiece in any workplace. The L-shaped home office desk includes a drawer for files equipped with extension slides that can easily hold the most important letter-sized hanging documents. The contemporary L-shaped desk comes with passes-throughs and holes for the cord management of your laptop's charger, the power cord for your lamp, and much more to create an organized workspace. The lower shelf with storage is perfect for books, a binder, an organizing binder, or home decoration. The vast top of this L-shaped desk that has storage can easily hold your computer, photos of your loved ones, your coffee cup, and other office essentials for your home. The desk's small size has been finished on all sides to allow for various placements in any space of your home. Work quickly thanks to the drawer system with a T-lock that allows for easy assembly. Enhance your home office space by embracing the attractive design and comfort of the L-shaped desk.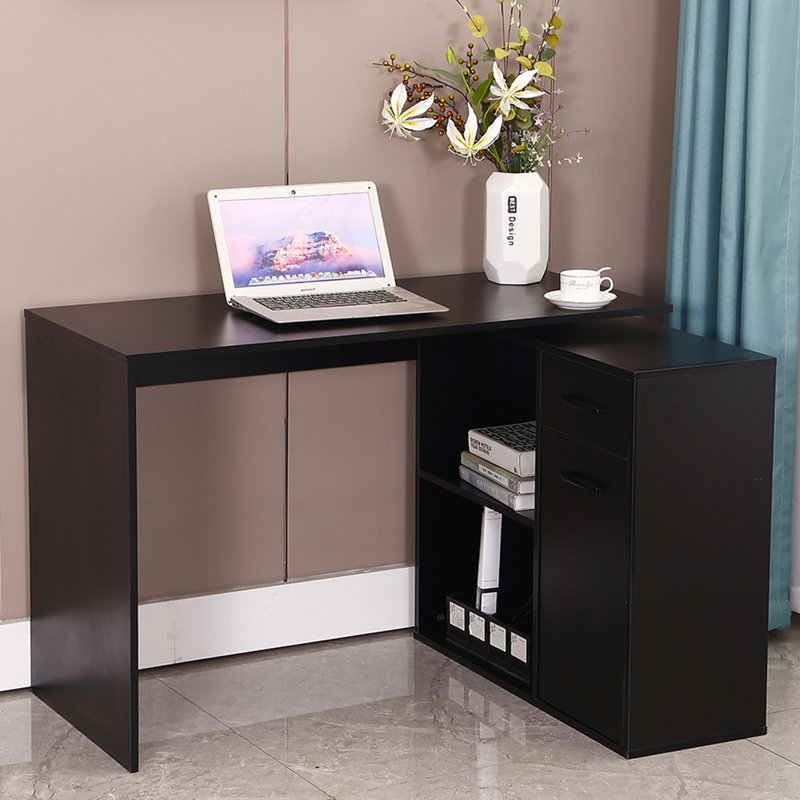 Contemporary computer desks enhance your home office by providing a functional workspace and storage with style. Are you looking for some adjustment? With this desk's swivel capabilities, you can put it into a huge L-shape or use it as an upright. The spacious desk at home gives two work surfaces and provides space for a computer or laptop and writing, reading or distributing documents. In addition, this L-shaped desk comes with ample storage options, including shelves and a bookcase that are built inside the desk. This is an essential item for every home office. The rotating design permits it to be used as an L - or I-shaped unit. A large tabletop made of solid particleboard that is stable to place the computer or school supplies. It is easy to clean furniture thanks to the smooth, dust-resistant and polished top surface. Anti-slip feet ensure a safe and secure standing and also keep the floor safe from scratches.

Conclusion
After reviewing these black office desks designed for use in offices, the RECO-BT Meet&Co Black Executive Desk is among the top executive desks. If you're seeking a more simple appearance, you can go with the computer desk that comes with the RECO-BT Meet&Co black executive desk. The desk can enhance the look of your office space by making it more appealing. The RECO-BT-A Meet and Co-executive desk in black are sturdy and long-lasting. It can be used for a long time.
Leave a Reply
Your email address will not be published.Required fields are marked. *